Joanne Hunter and Michael J Browne with the new shop sign
THE Grasmere Gingerbread Shop's iconic sign has been renewed by one of the UK's most controversial artists.
Michael J Browne – who infamously depicted football legend Eric Cantona as Christ in his painting The Art of the Game – has now added culinary legend Sarah Nelson to his portfolio of work.
"I went from old sepia photographs of Sarah Nelson to get her look exactly right," said the Manchester painter.
"Her eyes are strong and determined, even as an old lady, and I really wanted her powerful aura to come across in the overall shop sign."
Sarah Nelson invented Grasmere Gingerbread ® in 1854.
Joanne Hunter, co-owner of The Grasmere Gingerbread Shop is thrilled with the new sign.
"I think Michael has really captured Sarah Nelson's steadfast character. She defied terrible personal tragedies to reach the age of 88 before she died in 1904," she said.
"Unlike most modern shop signs which are digitally produced, our new sign is hand-painted on wood and it is an authentic piece of art in its own right," she said.
Michael has even signed it on the back.
It will replace the existing sign which was damaged in a recent storm, and is the 10th overall since the shop first opened in 1854.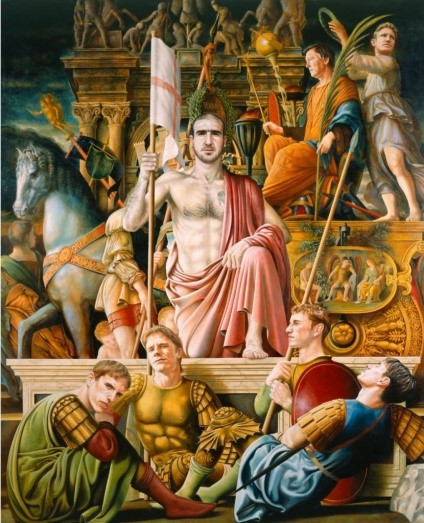 Eric Cantona as Christ in The Art of the Game by Michael J Browne
Michael used ordinary outdoor paint for the sign and finished it off with yacht varnish. It took him about a month to complete.
Joanne and Michael first met several years ago when he depicted her in a painting called The English Garden for a BBC documentary called Made in England
A contemporary artist who works in a Renaissance style, Michael recently painted a brilliant scaled-down version of Michelangelo's Sistine Chapel on the ceiling of a Manchester restaurant.
He has also painted pictures of the famous Manchester United football squads in various Renaissance settings.