GRASMERE Gingerbread was invented in 1854 by Victorian creator cook Sarah Nelson who mixed and baked her spicy-sweet chewy concoction inside her neat Church Cottage home – now The Grasmere Gingerbread Shop – and sold it to villagers and visitors from a table top on a tree stump outside her front door.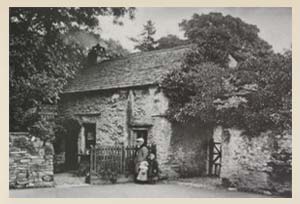 Within a few years its reputation had reached nearly every corner of the country and with the advent of the steam railways tourists flocked to Grasmere to buy her succulent invention.
In later life she became part of the fixtures and fittings of the village, usually seen sitting on a chair outside Church Cottage dressed in a white apron and shawl.
An iconic photograph of her is not dissimilar to the painting Whistler's Mother. But who exactly was Sarah Nelson and what is so special about her life story?
Sarah Nelson
Born into a poor working-class household in the lakeside village of Bowness-on-Windermere in the autumn of 1815, Sarah Kemp – as she was known by her maiden name – was destined for a life of hard graft.
Her widowed mother Dinah already had a seven-year-old daughter, Ann, when Sarah arrived into the world and juggling motherhood with a tiring round of chores and repetitive work in the kitchens of demanding well-to-do families was utterly exhausting.
With only a rudimentary education available for both daughters the greatest gift their mother could pass on to them was learning the art of domesticity. During the early 19th century, skivvying for aristocrats and wealthy families was one of the few realistic career opportunities for working class women in a rigidly hierarchical society. For the vast majority of women, and men for that matter, social mobility was a Utopian dream.
See the Timeline of Sarah's life here.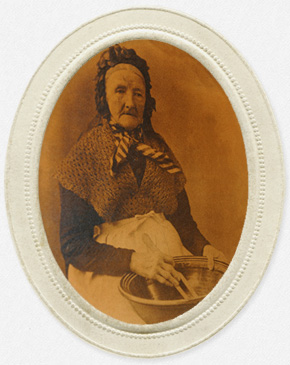 Sarah Nelson.
Steely Work Ethic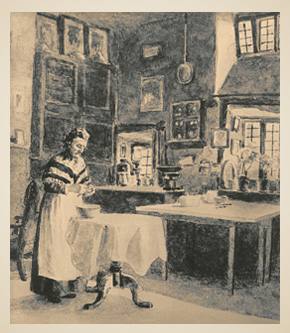 Sarah Nelson working in her kitchen, 1892. Note the large cupboard used to keep the school slates, which is still in place today.
Nature, at least, favourably bestowed upon Sarah a steely work ethic and ambitious character, for even as a small child taking in laundry, cleaning houses and fetching and carrying in the kitchens of local big houses, she harboured dreams of a better life.
Learning as much as she could, and shrewdly observing the working ways of higher-placed and more skilled staff, she eventually worked her way up to the position of cook in a Kendal household.
Having earned solid credentials in the role, for Sarah was a creative cook and always adding to her repertoire, she moved to a new household in Penrith, the market town on the edge of the Lake District where life would take a brief romantic turn.

Marriage
It was here in 1844 that Sarah met divorced farmhand Wilfred Nelson and the couple fell helplessly in love. After a whirlwind romance the couple married in a local church and looked forward to building a life together and then starting a family.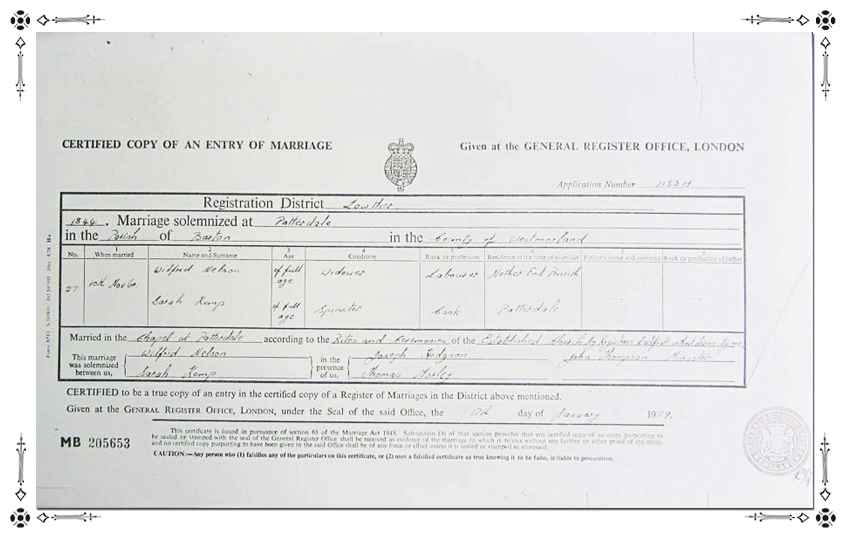 Shortly afterwards, they moved to the relatively bustling city of Lancaster and Wilfred became a tea dealer and grocer, raising their income and prospects for a more secure future.
Then, in 1846 Sarah gave birth to a son, John, followed by two daughters, Mary Ann and Dinah in 1848 and 1850. With Wilfred's business prospering the family suddenly felt secure, safe and full of promise. Sadly, fate would soon deal them a dreadful hand.
Illness and Loss
In March 1852 John fell ill with cholera, an incurable disease in insanitary Victorian times which regularly claimed thousands of victims in the overcrowded inner cities.
Within a few weeks, despite his mother's diligent nursing, the boy succumbed to the disease. Sarah and Wilfred were absolutely devastated and after the funeral, possibly gripped by fear that his sisters might also fall ill, the family moved north to picturesque Grasmere in the heart of the rural and sparsely populated Lake District, renowned for its fresh air, open fells and sparkling lakes and rivers.
Indeed, this was the romantic countryside beloved by 'Daffodils' poet William Wordsworth who had lived and worked in the area until his death two years earlier. Sarah couldn't know it at the time but Grasmere village would eventually become synonymous with her famous culinary delicacy and become known and celebrated throughout the world.
Wilfred & Sarah Nelson's grave stone.
A New Life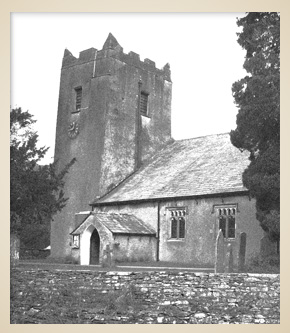 St.Oswald's Church, Grasmere.
Despite its distance from major industrial conurbations, there was just enough available work in the area to provide for the Nelson family.
Wilfred earned a living digging graves in St Oswald's Churchyard and labouring for a local builder whilst Sarah took in washing and cooked and baked for larger houses in the district.
Their joint income was meagre compared to what they had enjoyed in Lancaster but Sarah was a superb and resourceful housekeeper and, by living frugally, kept their heads above water.
More importantly, the couple's two daughters were healthy, happy and contented attending the local school and playing freely in the idyllic countryside.
A New Home
Dale Lodge in Grasmere generated work for gardeners, cooks and housekeepers. The seasonal home of Lady Maria Farquhar, her insatiable appetite for lunch and dinner parties meant extra work for Sarah Nelson whose culinary reputation had reached everyone's ears in the valley.
As well as preparing savoury dishes for the mistress of the house, Sarah stocked her pantry with homemade cakes and biscuits. Her life settled into a natural rhythm of work, satisfying the twin demands of Dale Lodge and her own family, now living in former village school Church Cottage, previously called Gate Cottage.
Built by public subscription in 1630, the quaint single storey building became vacant after the construction of a larger school nearby. Its immediate proximity to St Oswald's Churchyard was particularly handy for Wilfred, retained as a gravedigger.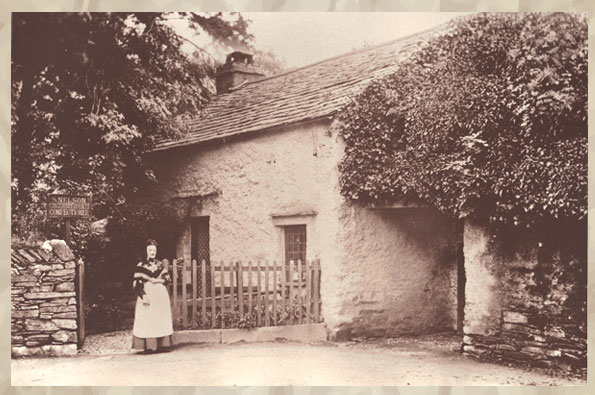 A postcard of Gate Cottage taken in approximately 1860. The cottage remains largely unaltered today.
Breakthrough
No-one knows when exactly but sometime in the winter of 1854 Sarah perfected a recipe for a new spicy-sweet sensation that she named simply Grasmere Gingerbread®.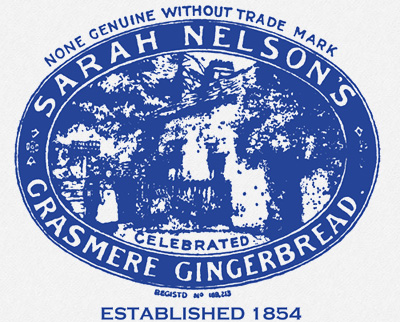 Neither a biscuit nor a cake, but somewhere in between, no-one had ever tasted anything quite like it before! Whilst she did not at first give up her regular work at Dale Lodge, Sarah began selling slices of Grasmere Gingerbread wrapped in parchment to villagers and tourists outside her neat home.
Officially registered as 'None Genuine Without Trademark', the launch of Grasmere Gingerbread® coincided with the development and expansion of the railways and the boom in Victorian visitors to the Lake District.
As the reputation of Grasmere Gingerbread grew, largely by word-of-mouth and tourists taking it home to bigger towns and cities, Sarah became confident enough to leave Dale Lodge and pour her energies into her new venture. A bold move and one which would more or less dictate the mixing, baking, wrapping and selling pattern of Sarah's arduous everyday life for the next fifty years.
Tragedy Strikes
Almost inevitably, given the harsh nature of life in the 19th century, death was a familiar companion to most working people and Sarah Nelson was no exception. But whilst she lost her mother in 1861 she did at least reach 88, a fantastic achievement at the time when average life expectancy was under half that. Even the death of her beloved Wilfred in 1880 aged 75 was astonishing; similarly, the passing of her sister Ann in 1884, also 75. Good ages all. No, what was particularly cruel and arbitrary were the premature deaths of her two daughters, firstly 18-year-old Dinah in 1869 and then newly-married 22-year-old Mary Ann the following year, both from tuberculosis.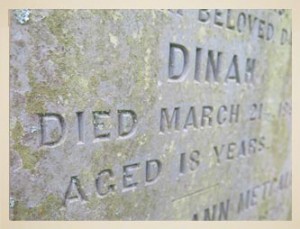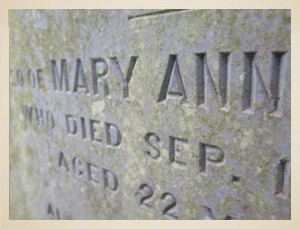 After the earlier loss of their young son John from cholera such personal tragedy was almost impossible to bear and it took a particularly terrible toll on their father.
Prone to depression and drowning his grief in drink, his general health deteriorated and he could not work for long periods of time.
As is so often the case, the matriarch of the family found a way to cope. Throwing her heart and soul in to her beloved Grasmere Gingerbread, Sarah Nelson enjoyed vicarious pleasure from seeing others relish her great invention.
Legend
As the 19th century wore on and Sarah formally established as 'Baker and Confectioner of Church Cottage, Grasmere' – forerunner of The Grasmere Gingerbread Shop today – she safeguarded her secret handwritten recipe in a local bank vault. Of modest nature, who would surely not have countenanced the description of herself as a legend in her own lifetime, Sarah was undoubtedly a pioneer, a role model for businesswomen long before women owned and ran their own businesses.
Like fellow adopted lakelander Beatrix Potter, she defied the gender stereotypes of the times and lit a beacon for women everywhere; its bright light shone far beyond the Lake District valley that became her home. Yet she never forgot her roots and despite losing her own children so young, felt emotionally strong enough to encourage other villagers' pre-school age children to read and write using Grasmere Gingerbread letters.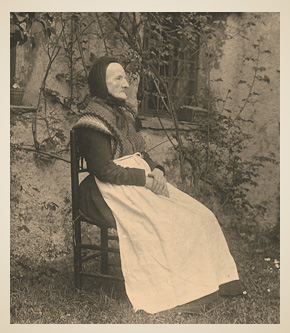 It was a small way of saying thank you to the community that had always supported her unique business venture but, even more importantly, had comforted her and Wilfred through gruelling family bereavements. Remarkably, Sarah lived to see the dawn of the new century, the death of Queen Victoria in 1901 and the beginning of the new Edwardian era.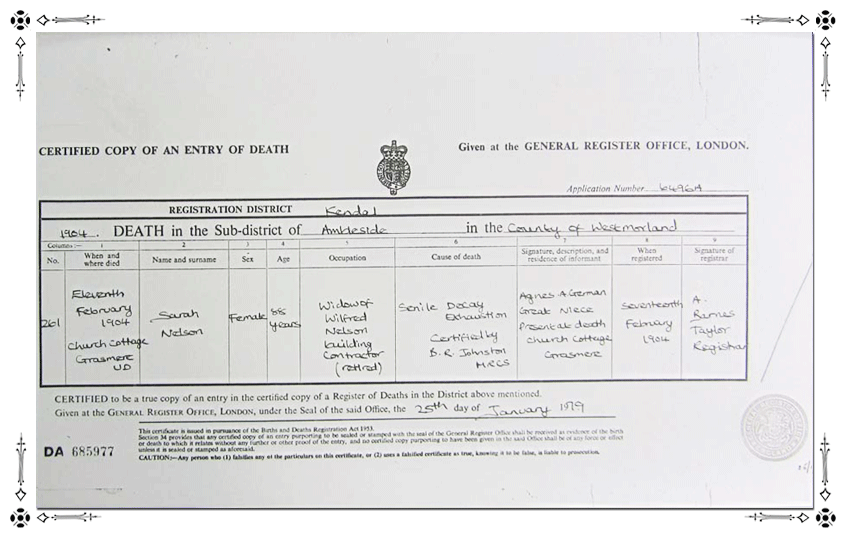 When she finally passed away in 1904, at the grand old age of 88, it was almost impossible for the inhabitants of Grasmere to imagine life without her. Sarah's funeral service was packed with mourners and her community laid her to rest in St Oswald's Churchyard, just a few yards from her beloved Church Cottage home and near the grave of poet WilliamWordsworth.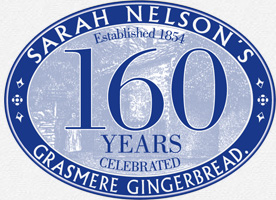 One hundred and sixty-six years after the creation and launch of Grasmere Gingerbread, Sarah Nelson's remarkable, unique legacy lives.
Her wonderful spicy-sweet cross between a biscuit and cake enjoys a worldwide following and it is still baked fresh every day to her original secret recipe inside her former home, now The Grasmere Gingerbread Shop.