January got off to a flying start – literally – when Joanne Hunter, co-owner of Grasmere Gingerbread® travelled to a San Francisco trade show to meet lots of dedicated American customers. "It was an amazing experience and the response from people who have enjoyed Grasmere Gingerbread® and from people who tasted it for the first time was incredible," she said. The trip enabled Joanne to examine the feasibility of producing Grasmere Gingerbread® in America. Watch this space!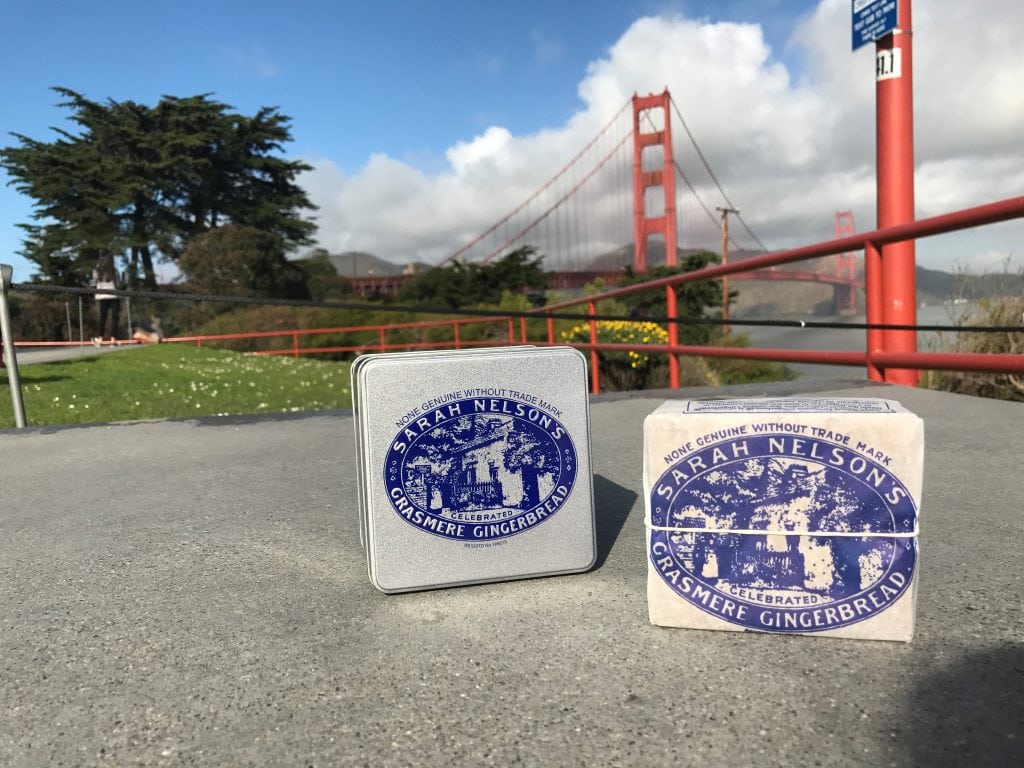 Snowdrops peeped their heads above the ground in Grasmere in the spring and were soon joined by another set of cheery faces – Blue Badge guides visiting the Grasmere Gingerbread Shop. "After giving a talk to the Blue Badge AGM in London I was thrilled to welcome their Cumbria guides to Grasmere for a familiarisation visit," said Joanne.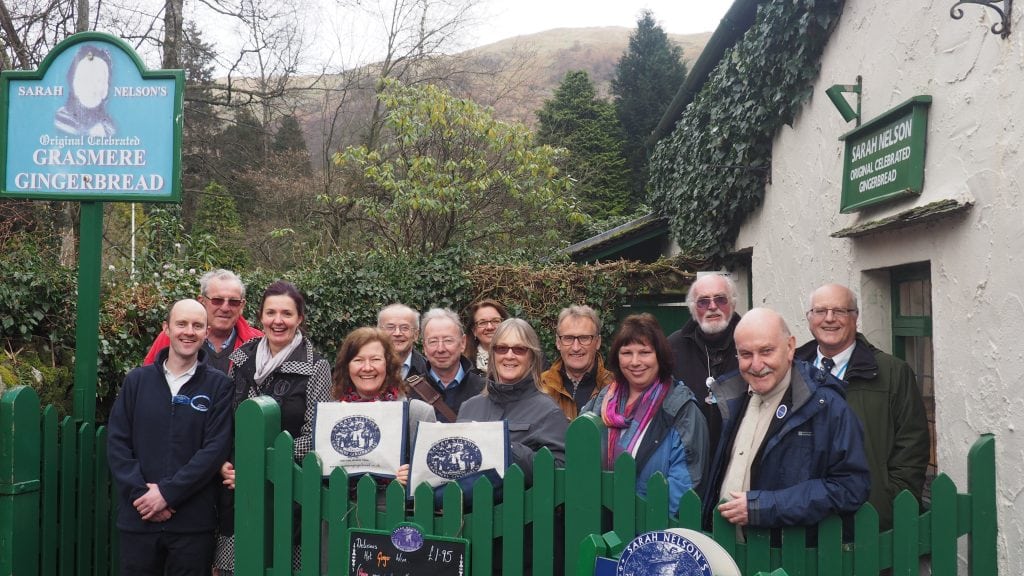 Describing them as the "crème de la crème" of tourist guides, she walked them around every inch of the village that she has known since she was a little girl. Tess Pike, a Kirkby Lonsdale-based blue Badge Guide, loved the special day out. "Each of us is a frequent visitor to the village and we were delighted to have the opportunity to benefit from Joanne's up-to-date insider knowledge of Grasmere," she said.
As spring gave way to summer in the soon-to-be-recognised UNESCO designated Lake District, Grasmere Gingerbread was commended in several business competitions. These included:
Finalists in the Cumbria Family Business Awards (food producer category);
Commended in the FSB Family Business Awards;
Finalists in the Amazon Business Awards;
Shortlisted in the Family Network Awards (London).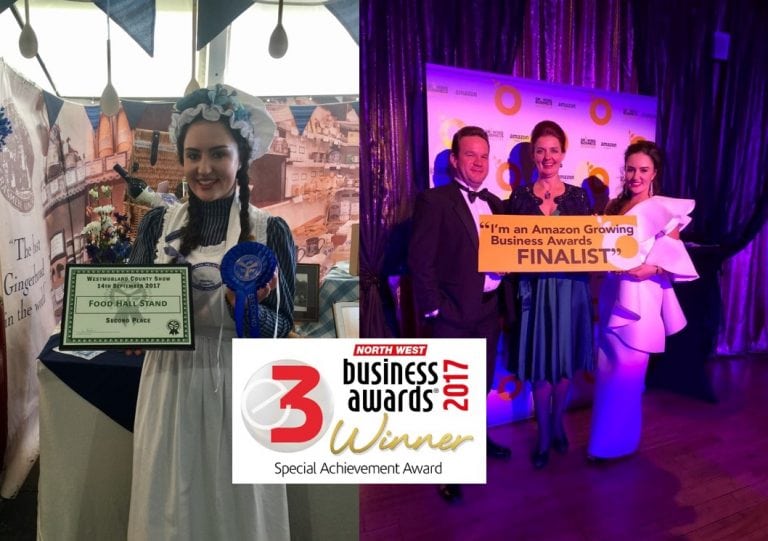 The best was yet to come. In a surprise end-of-evening announcement at the E3 Business Awards in July, Joanne was confirmed as the 2017 recipient of their Special Achievement Award. Earlier, she was named as a finalist in their Outstanding Woman in Business category. The judges praised her "great spirit, strength, commitment and business success". Having taken over the running of the business in 2000, Joanne told the audience of fellow business owners that she was "overwhelmed with emotion".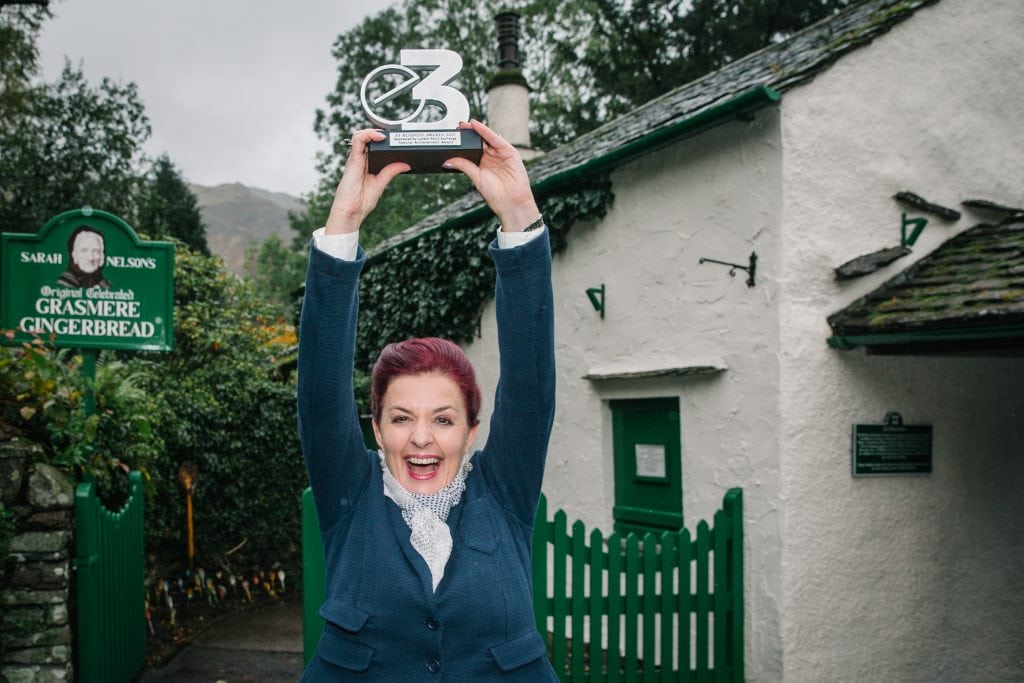 "So many thoughts and feelings rushed through me. I was brought up to be seen and not heard, that it wasn't a girl's place to be in business," she said. "It was gratifying to prove that philosophy wrong. After all, it was a woman, Sarah Nelson, who invented Grasmere Gingerbread in 1854 and I have been determined to protect and enhance her culinary legacy."
And it was Sarah's fragile hand-written recipe on parchment that hit the headlines in the autumn. Following the NatWest Bank's decision to close their Ambleside branch – where the recipe has been stored for decades – it was moved to their Windermere office.
Andrew Hunter, co-owner of Grasmere Gingerbread®, handed over the recipe – which only he has read! – to the NatWest's Sue Hart for safe keeping. "Appropriately enough, we store it in an old-fashioned metal biscuit tin," said Andrew.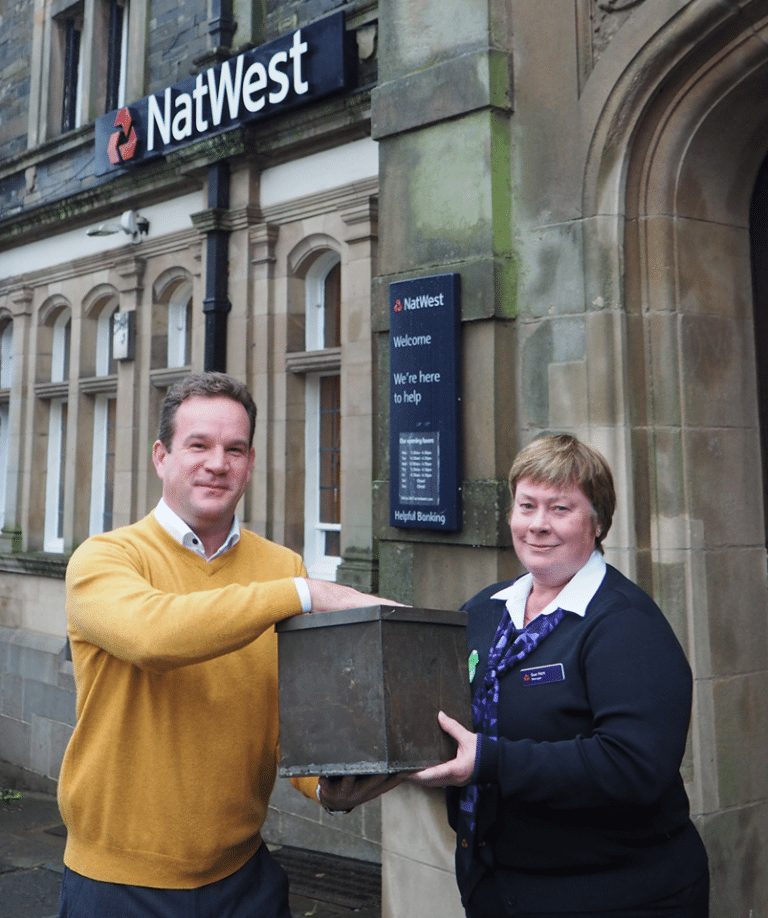 Reflecting the environmental concerns of Grasmere Gingerbread®, a tree nominated by Joanne was publically voted into Cumbria's Top 50 Trees during 2017. Her Japanese Maple – situated in the grounds of the former Charlotte Mason College in Ambleside – was placed at No.9. "At the beginning of October it takes on a life of its own and its leaves shimmer bright red in the sun," said Joanne. "I've known this tree since I was a little girl." The tree featured in a commemorate Cumbria's Top 50 Trees book and leaflet.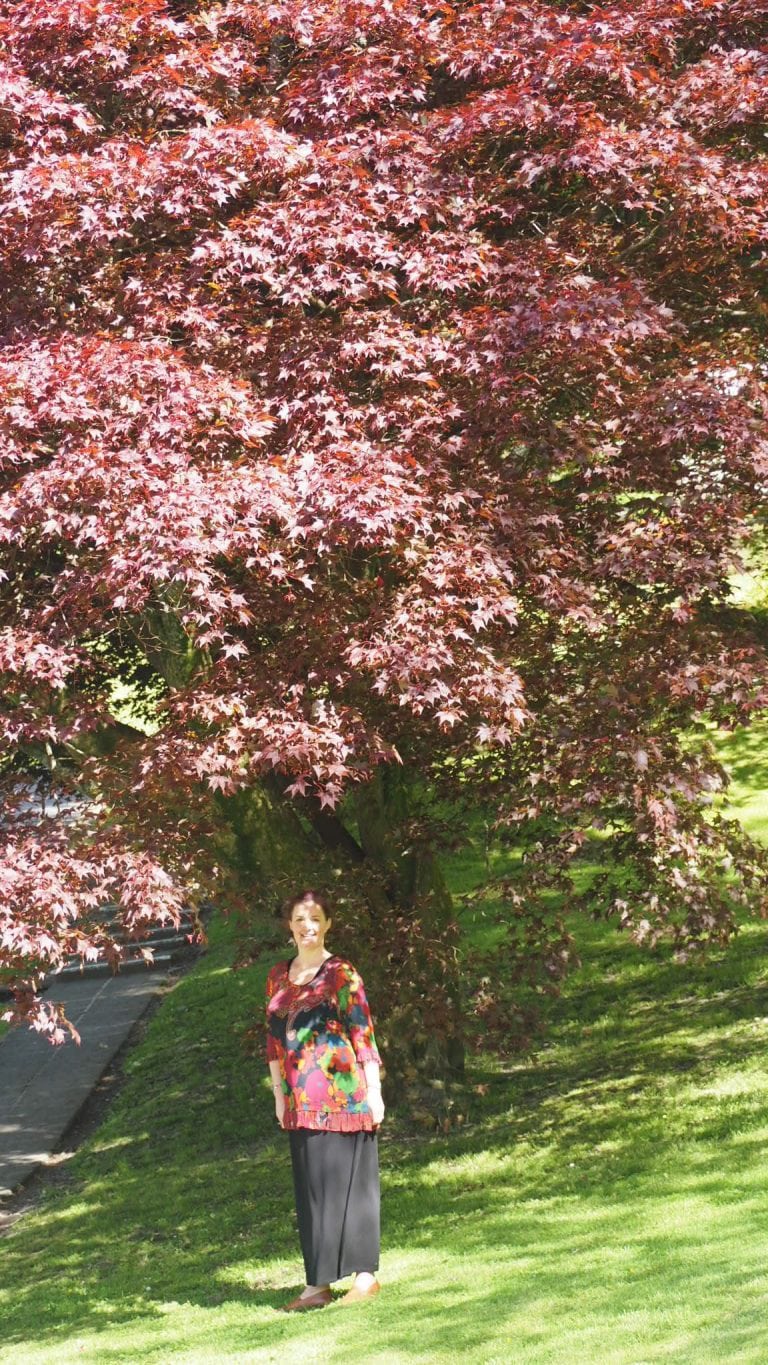 Still on the outdoors, TV present Emma Kennedy arrived at the Grasmere Gingerbread Shop during her series Walk with your Dog. "She was so interested in the shop, its history and a real pleasure to chat to," said Joanne.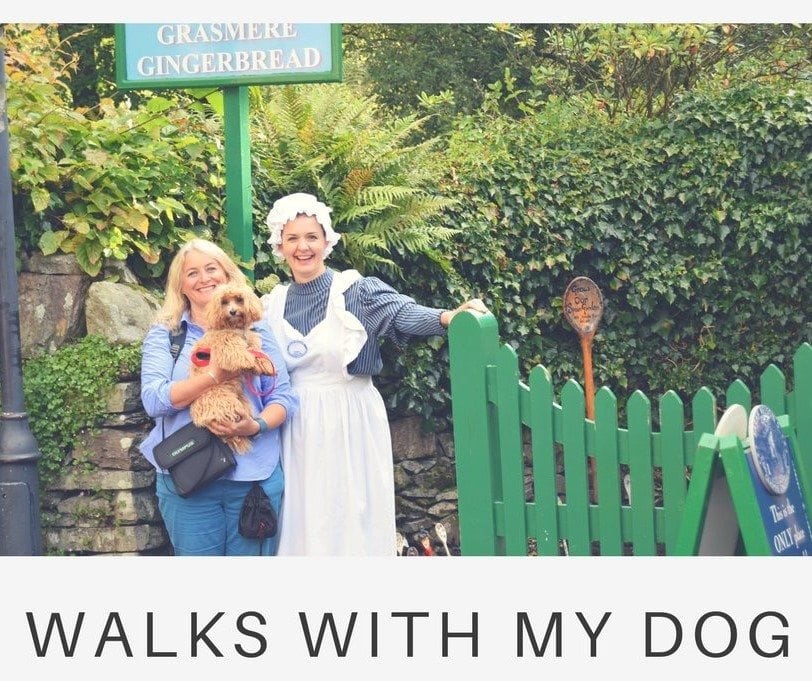 Throughout the year Grasmere Gingerbread® was a familiar presence at various country fairs across the country and the subject of many talks at local WIs. Venues included Alexandra Palace, London; the Westmorland Show near Kendal; Blackfriars, Newcastle; Tarleton near Southport; Ladybridge near Manchester and Crank near St Helens. "It's always great to get out and about and people are always fascinated about the history behind Grasmere Gingerbread and why it is so special," said Joanne.

As 2017 gathered momentum and demand for Grasmere Gingerbread grew, the business recruited three new members of staff – Emil, Miroslava and Barry. Emil, a general assistant, Miroslava, a shop assistant and Barry, an events assistant, all slotted in brilliantly and are now part of the growing Grasmere Gingerbread® team. One member of staff, Alice, who is from Hong Kong, is fluent in mandarin and thrills the growing numbers of Chinese customers with surprising, friendly chats in their mother tongue.
Grasmere Gingerbread® prides itself on working with other iconic small businesses and in 2017 it was supplied to the Low Wood Hotel at Windermere for the first time. They serve it on room trays in every bedroom.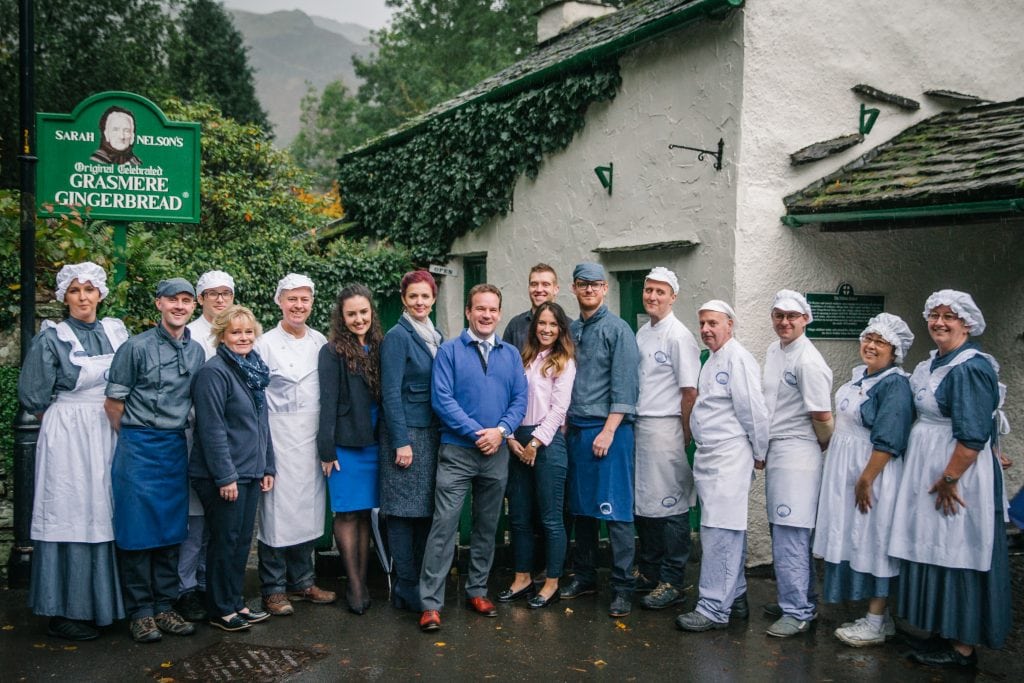 The year ended BIG!
Visit Britain named the Grasmere Gingerbread Shop as one of the top ten shopping experiences in the UK – alongside Harrods – and for the first time in its 163-year-old history, Grasmere Gingerbread® starred in its own giant billboard in November and December. The hoarding at Windermere train station urged visitors NOT to leave the Lake District without a piece of the region's most iconic product.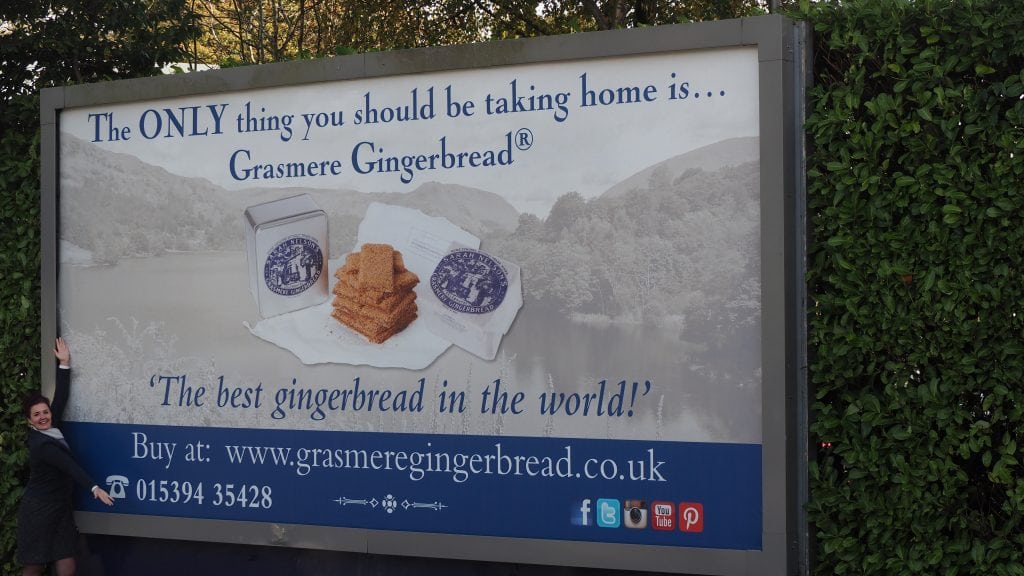 "As it was the arrival of the steam trains here in the 19th century that helped spread the word about Grasmere Gingerbread® this seemed the most appropriate location to launch our first BIG advert," said Joanne.
Christmas was busier than ever with orders from all over the world, including several from Sweden and the first-ever from Chile. Kendal's Made in Cumbria shop also hosted Grasmere Gingerbread® for a day in December. "As ever, throughout the year, we have the most incredible support and loving messages from our UK customers, many of whom were introduced to Grasmere Gingerbread® as children," said Joanne. "Now, they are giving their children, and in some cases their grandchildren a taste for it! "They are the reason we keep baking Sarah Nelson's amazing invention. "Her recipe may be secret but there's nothing secret about the love that Grasmere Gingerbread® generates. 2017 was a memorable year. Here's to 2018 and I am sure there will be lots of great new stories, events, happenings and interactions with our wonderful customers!"
Joanne and Andrew Hunter
Co-owners Grasmere Gingerbread®