The next stop took the group onto the busy M6 and a comfort stop at the northbound Tebay Services which stocks Cumberland Rum Butter made by Grasmere Gingerbread®.
After a brisk half-hour lunch the minibus headed east towards Kirkby Stephen, the home of Country Flavour Fudge.
The Keogh family make sumptuous fudges in their own back kitchen home using locally-sourced ingredients.
Jo Keogh said: "It was great having a visit from the Grasmere Gingerbread® team and being able to share the story with them about how we developed our fudge and how we make it today.
"It was really useful being able to answer some of the questions people asked and I'm glad the samples went down well!"
On a lighter note Jo remembered Yasmine Hunter, daughter of Joanne, answering the telephone with a proper telephone voice when she was just a little girl.
Yasmine, the Marketing, Sales and Events Executive at Grasmere Gingerbread®, is now 22 and she still has a proper telephone voice!
Fudge time over, it was time to hit the road and head towards Kendal and the home of Farrer's Tea and Coffee Merchants.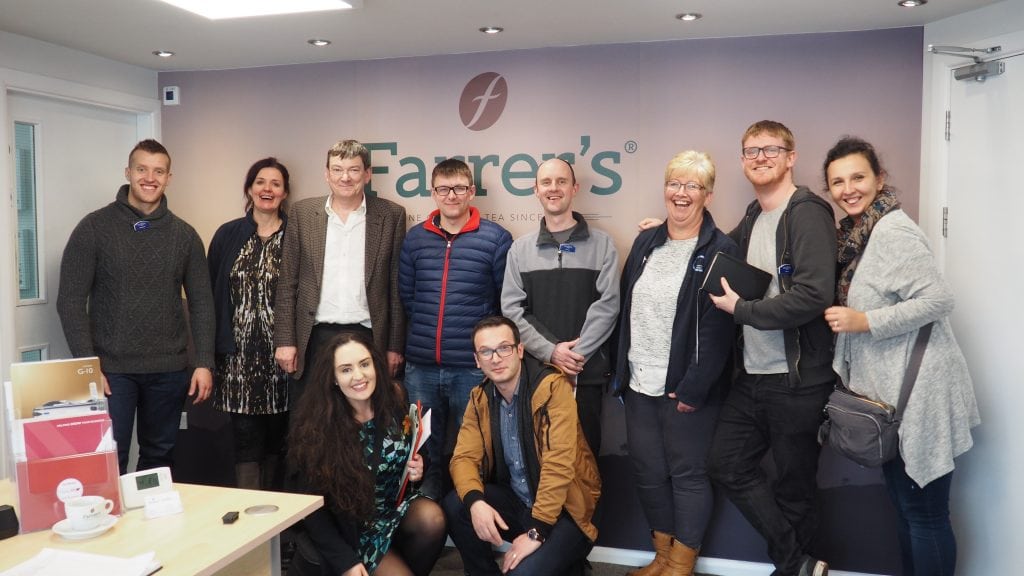 Situated in a Grade 2 listed building, this prestigious company began trading in 1819 and supplies teas and coffees across the world – and to Grasmere Gingerbread®. The Grasmere Gingerbread team toured the HQ's tea and coffee lounges and learned some of skills involved in roasting coffee beans and blending teas.
Joanne said: "The various aromas of the teas and coffees at Farrer's were amazing and this was a real highlight of the day."

The final stop was Pure Lakes in Staveley.
An award-winning producer of natural skincare products, their association with Grasmere Gingerbread® began in 2010 when they producing a ginger and orange hand cream.
They now supply ginger hand wash, ginger body lotion and ginger lip balm.
Claire McKeever, Director of Pure Lakes Skincare said she was delighted to host the team from Grasmere Gingerbread "especially when they brought with them some of their delicious gingerbread for us to sample!"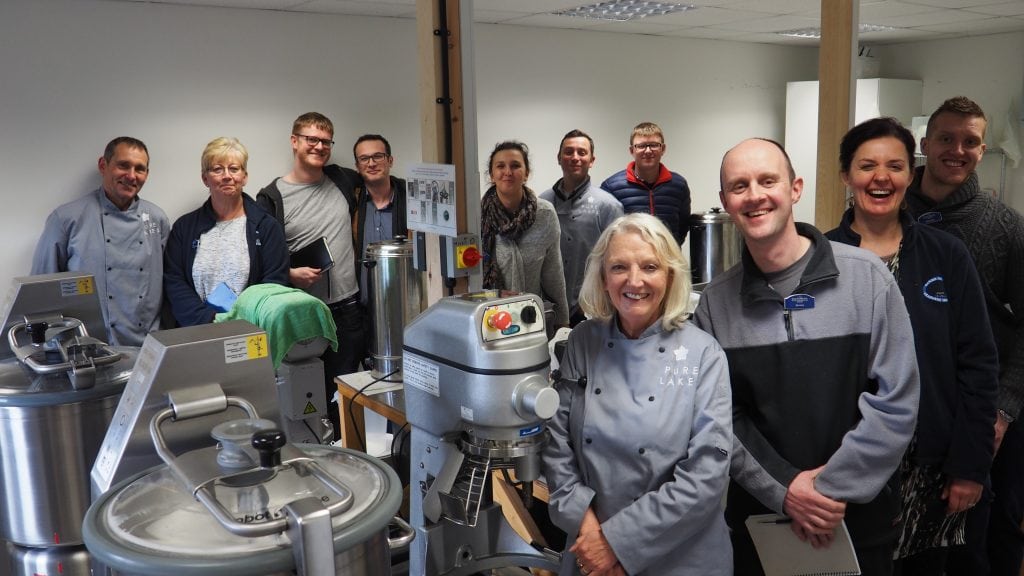 Grasmere Gingerbread® has built a strong Cumbrian business, one grounded in the local community, and Pure Lakes is very proud to partner with them on a number of products."
Shirleyann Gledhill, Sales Administrator at Grasmere Gingerbread® was one of nine members of staff to join the away day.
"I am office-based but as I deal directly with our customers over the telephone it's important that I have intimate knowledge of all the products to guide them through their purchases," she explained.
"This was a fantastic day out for me. I was bowled over by the passion and dedication of all our suppliers and their enthusiasm at working with us.
"Joanne has always instilled in us the value of working with other local producers and now I really understand why."
Joanne hopes to repeat the tour later this year, taking the other remaining members of staff along.
"We received a warm welcome everywhere and the day exceeded my expectations," she added. "A big thanks to everyone we met – it was a day to remember!"