Read all about us
GRASMERE Gingerbread is rarely out of the news. Journalists from international, national and regional TV stations, radio shows, magazines and newspapers regularly beat a path to our famous green door to shine a media spotlight on our business.
Recent TV programmes to feature The Grasmere Gingerbread Shop include impressionist Rory Bremner's Great British Views, comedian Adrian Edmondson's Ade in Britain and ITV's flagship popular daytime show This Morning. "It's always exciting working with television crews," said Joanne Hunter, a partner in the business.It's great fun for our staff and customers who get a close-up view of celebrities and how popular programmes that millions of people watch are actually made."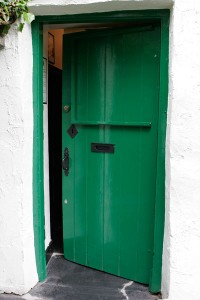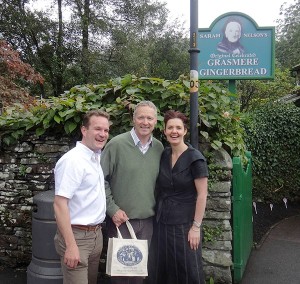 The Grasmere Gingerbread Shop also works closely with authors and reporters looking for stories about traditional businesses with an unusual story to tell. "Sarah Nelson, who of course invented Grasmere Gingerbread in 1854, is an amazing example of a pioneering businesswoman from a working-class background who succeeded against all the odds, said Joanne. "Her personal story, and struggles against huge personal loss including the deaths of her children from cholera and tuberculosis in Victorian times, still resonates today and always arouses the curiosity of writers."
The Grasmere Gingerbread Shop generates regular media releases and photo opportunities for journalists and gets involved in newsworthy fund-raising for local causes and charities such as Cumbria Wildlife Trust, Great North Air Ambulance and Nurture Lakeland.
Grasmere postwoman Laura Doling delivers a sweet surprise to new students
University of Cumbria's unusual welcome gift for new students
CRUMBS! Hundreds of new students received a spicy-sweet surprise welcome to the University of Cumbria.
A freshly baked slice of Grasmere Gingerbread® was sent to each first-year undergraduate to give them an iconic taste of the county.
"Sarah Nelson, who invented Grasmere Gingerbread® in 1854, would surely have approved as she was an early educationalist," said Joanne Hunter, co-owner of Grasmere Gingerbread®.
"She used giant letters made from Grasmere Gingerbread® to teach the alphabet to local children."
Jayne Pugh, Associate Director of the University of Cumbria explained why Grasmere Gingerbread® was chosen.
"We wanted to offer warm welcome to new students and Grasmere Gingerbread® was the perfect gift," she said.
"We are the university of both Cumbria and the Lake District and we have a strong sense of place, in much the same way that Grasmere Gingerbread® does. It is an iconic product and uniquely associated with this region."
Jane said the feedback from students – many from outside the county and Europe – was incredible, with many emailing and telephoning to say how 'surprised and delighted' they were with their tasty titbit.
The Grasmere Gingerbread® slices were dispatched as soon as A-level results were announced on Thursday.
Such was the size of the order – about 2000 pieces that required individual hand-wrapping – Joanne pitched in to help staff with the giant wrapathon.
"This is one of the biggest orders for individual pieces that we have ever received," she said.
"It is great to be able to give new students a real taste of Cumbria, especially as many of them will be studying at the university's Ambleside campus just down the road from our shop."
Unique Grasmere Gingerbread® has followed its Victorian founder's educational philosophy by creating special online Grasmere Gingerbread® worksheets for local pupils at Key Stages 1 and 2.
The building in which The Grasmere Gingerbread Shop is housed was also the original village school built in 1630.
Appropriately enough, the Grasmere Gingerbread® online shop sells a special university-themed 'tuck box' hamper.
"It's an antique-style wooden suitcase full of scrummy Cumbrian ginger-flavoured foods that is popular with parents who want to give their student kids a send-off gift," added Joanne.