VICTORIAN cook Sarah Nelson invented Grasmere Gingerbread in 1854 in the English Lake District village from where it gets its name. A unique, spicy-sweet cross between a biscuit and cake, its reputation quickly spread and it is now enjoyed by food lovers all over the world.
Today, the business is run by third generation owners Joanne and Andrew Hunter and every day visitors to the shop are greeted by the wonderful aroma of freshly baked Grasmere Gingerbread hanging in the air.
The Grasmere Gingerbread Shop also sells its own award-winning rum butter and a variety of ginger-themed foodstuffs including toffee, fudges, chocolates, conserves, Cartmel Village Store Sticky Toffee Sauce, Kendal Mint Cake, conserves, ginger beer, ginger-themed gifts, and much, much more.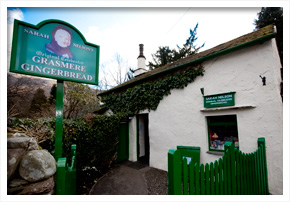 Where is The Grasmere Gingerbread Shop?
The Grasmere Gingerbread Shop nestles beside St Oswald's Churchyard and The Wordsworth Hotel in the heart of Grasmere village in the Lake District, Cumbria. There are approximately four free car parking spaces outside the shop but waiting times are limited.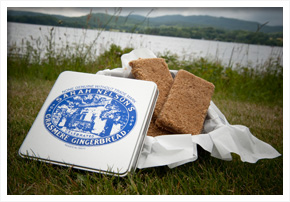 For health and safety reasons we cannot allow dogs in the shop (except guide dogs) and customers are advised to remove their rucksacks before entering (due to limited squeeze past space).
Wheelchair access is possible if we are not exceptionally busy. We now accept credits cards and travellers cheques apart from American Express and Diners.
Location of Shop: National Grid Reference; Easting: 33370, Northing: 50740.
Latitude: 54 27 28.6524 N Latitude: 54.457959
Longitude: 3 1 25.1034 W Longitude: -3.023640


When is The Grasmere Gingerbread Shop open?
The Grasmere Gingerbread Shop is open all year round. We only close for four days of the year; Good Friday, Christmas Eve, Christmas Day and Boxing Day to respect the religious festivals of the Church of England which owns Church Cottage, home of The Grasmere Gingerbread Shop.
Our only caveat involves exceptionally severe weather which, if it makes driving especially hazardous on local roads, may force us to close our shop earlier in the day.
So if you are making a special journey to visit us in the winter and weather warnings have been issued please give us a quick call on Tel: (00) 44 15394 35428 to check that we are staying open.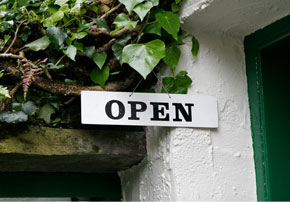 How is Grasmere Gingerbread made?
Shush, it's a secret. Sarah Nelson's original hand-written recipe on parchment is safely stored away in a secure bank safe in the Lake District.
The only person alive today who knows the recipe is Andrew Hunter, a partner in the business, who mixes and bakes Grasmere Gingerbread fresh every day for people to enjoy. However, there is one secret that everyone is in on; Grasmere Gingerbread is still as mouth-watering and moreish as the first day it was made by Sarah Nelson all those years ago.
Why is Grasmere Gingerbread so famous?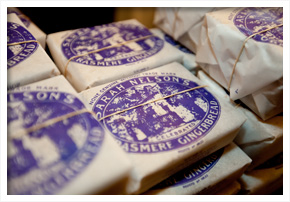 Grasmere Gingerbread is special. And whilst it is utterly unique and delicious to eat – and fêted by numerous celebrity chefs and leading cooks such as Jamie Oliver and Phil Vickery – it is surely the provenance of Grasmere Gingerbread and the deeply moving personal life story of its Victorian inventor Sarah Nelson that resonates with so many people.
If you read her amazing story on our History page we think you will begin to understand why Grasmere Gingerbread has stood the test of time to become the iconic spicy-sweet treat that it is today.
Who visits The Grasmere Gingerbread Shop?
We are delighted to welcome visitors from all over the UK, Europe and, indeed, the rest of the world who travel to soak up the shop's historic ambience and buy Grasmere Gingerbread.
You might like to know that 19th century poet William Wordsworth, who lived nearby, once taught local children in The Grasmere Gingerbread Shop when the building was a small village school.
Much more recently a host of movie actors, writers, TV stars and showbiz personalities have visited us. Please visit our Celebrity page to find out who.
Grasmere Gingerbread can also be bought via mail order from this website or directly via the shop. We also attend food fairs and local shows throughout Cumbria and the north of England and all our up-and-coming events are prominently posted on our Events page.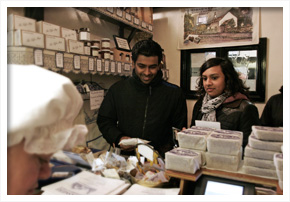 Beware of Imitations
Imitation may be the sincerest form of flattery but when it involves Grasmere Gingerbread please beware! Because it tastes so good many people have tried to make their own version and pass it off as Sarah Nelson's 'Original and Celebrated' Grasmere Gingerbread.
Unless it is sold in The Grasmere Gingerbread Shop, via our online shop or served at a few hand-picked local hotels and restaurants (which you can view on our Working Together page) anything being passed off as Grasmere Gingerbread is most certainly not the real thing.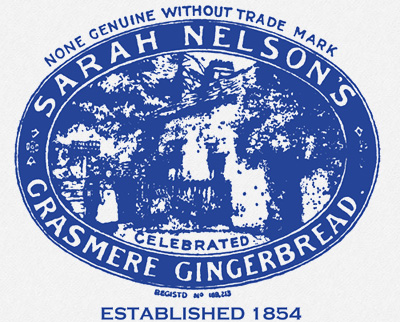 Products bearing descriptions such as THE Grasmere Gingerbread or Ginger Shortbread or Lakeland Gingerbread or anything of a similar description are NOT produced by The Grasmere Gingerbread Shop and are not made from Sarah Nelson's 'Original and Celebrated' secret recipe.
The only true Grasmere Gingerbread is made at The Grasmere Gingerbread Shop, inside Church Cottage, Grasmere in the English Lake District. Anything else is a forgery.
Our genuine Grasmere Gingerbread can only be sold when it displays the trademark.

To read about recent occurrences at the Grasmere Gingerbread Shop please see our Unwrapped page.