Origins
THE exact origins of Rum Butter are shrouded in mystery. No-one knows who invented this true Cumbrian delicacy but it first appeared in local larders in the late 18th century.
Brought into the ports of Whitehaven, Workington and Maryport by merchant ships from the West Indies, rum quickly became an integral ingredient of the West Cumbrian diet.
Romantic legends about how Rum Butter came about abound: one tale describes how a drunken sailor, staggering on board ship, crashed into a barrel of rum which leaked into a butter churn, flavouring its golden contents.
Another story is even more incredible! One misty morning pirates unloaded an illicit horde of rum, butter and sugar onto the West Cumbrian shore. When spotted by customs officers they fled into a cave – later cut off by the tide – and survived on a sweet paste of rum, butter and sugar.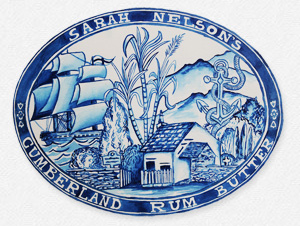 Illustration by Amy Burton, Sales Assistant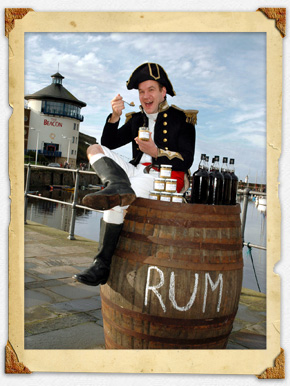 Traditions
Another tale relates how a Cumbrian farmer's wife's keg of smuggled rum leaked onto precious larder stores of butter and sugar.
Fanciful or not, the stories – and Rum Butter itself – grew in popularity and the creamy concoction gradually became a mainstay of the humblest stone pantry.
Rum Butter's irresistible taste – heightened when sweetened with dark Muscovado sugar and nutmeg – quickly crossed the great English class divide and into the fashionable country houses of the Lake District.
By the time Queen Victoria ascended to the throne in 1837 Rum Butter (also known as hard sauce) was integral to every christening feast and a bowl of Rum Butter was passed around the visitors.
The new mother received a portion to hasten her recovery and it was even given to the baby to bestow good characteristics: butter for goodness, rum for spirit, sugar for sweetness and nutmeg for spice! Its head was also washed with rum – hence the saying "wetting the baby's head".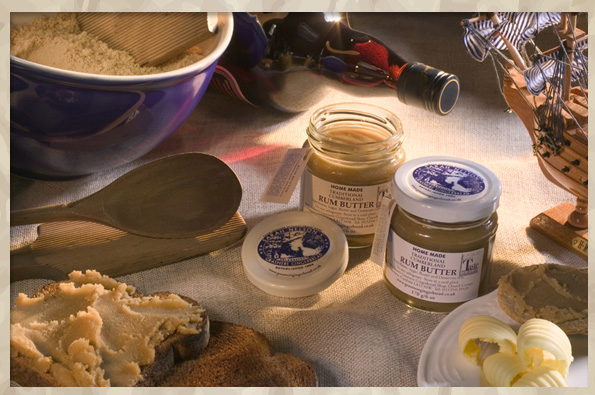 Today
Some Lakeland families still own their own Rum Butter bowls and there is a fascinating collection of Rum Butter dishes, plates and bowls dating from the mid-19th century in the Beacon at Whitehaven Harbour.
Today, Cumbria's romantic love affair with Rum Butter continues at the Grasmere Gingerbread Shop where it is made fresh every day. It is delicious on toast, oatcakes, crackers, scones and bread, as an accompaniment to mince pies and Christmas pudding, or warmed on ice cream, popcorn or even on Sarah Nelson's Grasmere Gingerbread!
Our Rum Butter keeps for up to six months and is best kept in a cool pantry or larder but not a refrigerator otherwise the sugar will crystallise.
Our Rum Butter is available mail order – why not try some today! Buy Online.