LIFE imitated art when a painter famed for her portrayals of gingerbread men met the real thing in Grasmere.
Sarah-Jane Szikora joined Andrew Hunter of The Grasmere Gingerbread Shop ahead of the London launch of her new book A half baked History of Gingerbread.
"It was a real thrill to meet a real-life gingerbread man after years of drawing them for cards and prints," said Sarah-Jane from Tyneside.
"Disappointingly, Andrew was wearing clothes that day and kept his currants well hidden!"
Sarah-Jane's gift cards of gingerbread men – who always have currants for eyes and buttons – are sold through The Grasmere Gingerbread Shop.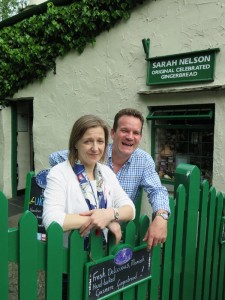 Sarah-Jane Szikora and Andrew Hunter outside The Grasmere Gingerbread Shop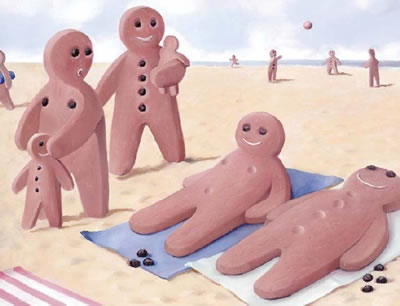 "Her pictures put gingerbread men into very quirky and off-the-wall situations yet Sarah-Jane herself was surprisingly normal and it was great to finally meet her," said Andrew, a partner in Grasmere Gingerbread.
"We have been selling her cards for years as they obviously complement what we are doing here."
Andrew is baking a special batch of Grasmere Gingerbread to be given out at the launch of her book as well as a new collection of paintings at the Clerkenwell Gallery in London between 14 and 18 July.
She said she was "over the moon" when Andrew offered to support the launch with free Grasmere Gingerbread for guests.
"I'm a northern painter, Grasmere Gingerbread is fabulous northern delicacy so it's a match made in heaven," said Sarah-Jane.
In return, Sarah-Jane has given Grasmere Gingerbread an exclusive limited print of a Terracotta Army of gingerbread men for a prize in a competition being run on our website at www.grasmeregingerbread.co.uk