Sarah's Ginger Parfait
Preparation time: 20 mins (approx.)
Freezing time: 6 hours (min)
Serves 6-8
150g (5oz) of Sarah Nelson's Original Celebrated Grasmere Gingerbread crumbs
(these can be created by putting your gingerbread into a blender, or occasionally crumbs can be purchased over the shop counter).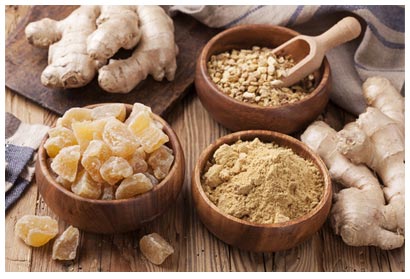 15g (½ oz) unsalted butter, melted
2 large eggs
175g (6oz) icing sugar
1 level tbsp. ground ginger
568ml carton of double cream
Zest and juice of half a lemon
1. Put the gingerbread in a food processor and whiz for 10secs to make the crumbs (don't over do it).
2. Use the butter to grease a 2lb (min) loaf tin. Line the tin with cling film, then brush the cling film with the rest of the butter. Spoon about 3 tbsp. of the gingerbread crumbs into the loaf tin and move the tin around to give an even coating of the crumbs, put any remanding crumbs back into the rest of the allocation. Now put the tin into the freezer.
3. Put the eggs, icing sugar and ginger in a bowl and whisk together for at least 10 mins or until the mixture is thick and moussey and leaves a ribbon-like trail.
4. Whisk the cream until soft peaks form, then fold into the egg mixture. Put 3tbsp of gingerbread crumbs to one side, then fold in the remainder with the juice and zest of the lemon. Now pour the mixture into the prepared loaf tin and sprinkle with remaining crumbs. Cover with cling film and freeze for 6 hours.
5. After a long wait… dip the tin into hot water for a few minutes, go around the tin with a knife to loosen, then unwrap and turn out onto a board. Cut into slices and serve – very sweet, but absolutely delicious.
Joanne served this at a family gathering, there was a few non enthusiastic faces when gingerbread was mentioned – 'oh no not another recipe', but they were all asking for seconds! Great for dinner parties.
Click Here to buy Grasmere Gingerbread Crumbs