Sarah Nelson's Cherry, Ginger & Almond Slices

---

Ingredients

Ready rolled shortcrust pastry sheet
200g butter, softened
200g caster sugar
100g ground almonds
100g self-raising flour
1tsp baking powder
½ tsp almond extract
4 eggs, beaten
6-7 tbsp cherry jam
3 balls stem ginger, diced
Flaked almonds
50g icing sugar
---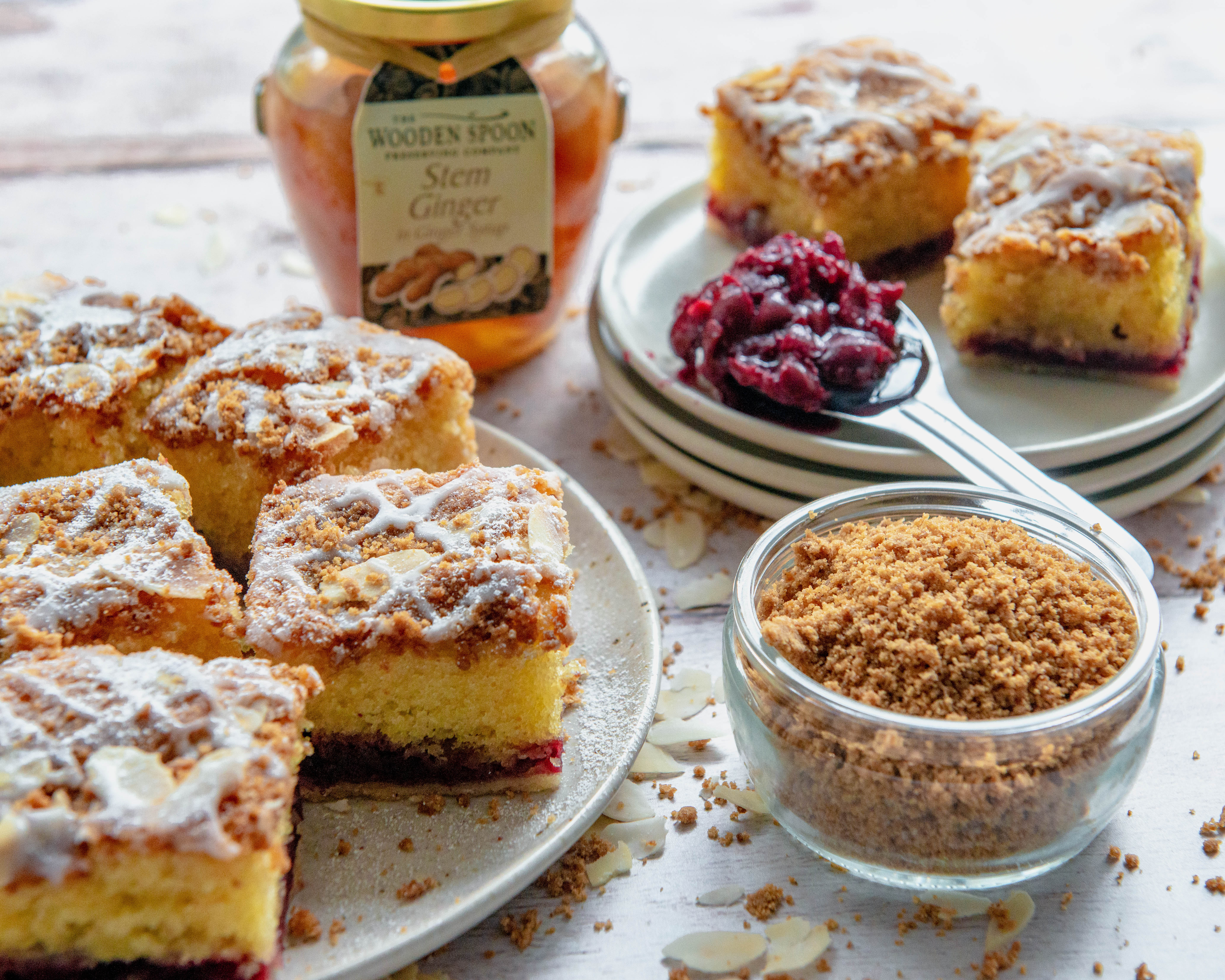 Preparation
Line the base and sides of a rectangular or square tin (we used a 23cm square tin) with nonstick baking paper. Cut enough pastry to cover the base and lift into the tin, pressing into the corners. Prick the base with a fork and chill in the fridge for 20 mins. Preheat the oven to 200°C.
Line the pastry case with nonstick baking paper and fill with baking beans. Bake the pastry for 10 mins until just cooked but not coloured. Remove the beans and baking paper and return to the oven for 2-5 minutes to crisp up the base. Leave the pastry to cool slightly making the sponge.
Put the butter, sugar, ground almonds, flour, baking powder, almond extract and eggs in a large bowl and beat until combined. Spread the jam over the cooled pastry in an even layer, sprinkle over the diced stem ginger and then top with the sponge mixture.
Cover the sponge mixture with generous sprinkles of Grasmere Gingerbread® Crumbs and scatter flaked almonds over the top. Bake in the oven at 175°C for 45-60 mins or until firm and just golden. Bake time will depend on the size of your tin. Remove from the oven and leave to cool completely.
Mix the icing sugar with enough cold water to make a stiff mixture. Drizzle the icing over the sponge and sift over additional icing sugar if desired. Once set, cut into slices and enjoy!