Much more recently a host of movie actors, writers, TV stars and showbiz personalities have visited us. Please visit our Celebrity page to find out who.
Grasmere Gingerbread can also be bought via mail order from this website or directly via the shop. We also attend food fairs and local shows throughout Cumbria and the north of England and all our up-and-coming events are prominently posted on our Events page.

Beware of Imitations
Imitation may be the sincerest form of flattery but when it involves Grasmere Gingerbread please beware! Because it tastes so good many people have tried to make their own version and pass it off as Sarah Nelson's 'Original and Celebrated' Grasmere Gingerbread. Unless it is sold in The Grasmere Gingerbread Shop, via our online shop or served at a few hand-picked local hotels and restaurants (which you can view on our Working Together page) anything being passed off as Grasmere Gingerbread is most certainly not the real thing.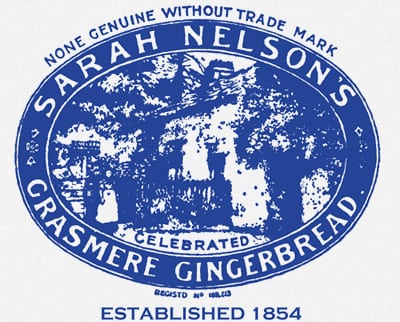 Products bearing descriptions such as THE Grasmere Gingerbread or Ginger Shortbread or Lakeland Gingerbread or anything of a similar description are NOT produced by The Grasmere Gingerbread Shop and are not made from Sarah Nelson's 'Original and Celebrated' secret recipe.
The only true Grasmere Gingerbread is made at The Grasmere Gingerbread Shop, inside Church Cottage, Grasmere in the English Lake District. Anything else is a forgery.
Our genuine Grasmere Gingerbread can only be sold when it displays the trademark.

To read about recent occurrences at the Grasmere Gingerbread Shop please see our Unwrapped page.