SARAH-Jane Szikora's weird and wonderful gingerbread men gift cards are deservedly popular with customers of The Grasmere Gingerbread Shop.
They are always witty, always thought-provoking and always beautifully drawn by their Tyneside artist creator.
Now these traditional biscuit characters from folklore are to be immortalised in a new book by the artist.
Entitled A half baked History of Gingerbread, it depicts an imagined historic timeline of gingerbread men.
To help celebrate the launch of the book, The Grasmere Gingerbread Shop is offering a signed, limited edition print of Sarah-Jane's painting 'Field' as a competition prize for customers.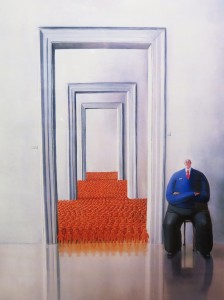 "It's an amazing picture, the gingerbread men forming a Terracotta Army and framed within an art gallery doorway," said Joanne Hunter, a partner in Grasmere Gingerbread.
Sarah-Jane recently visited The Grasmere Gingerbread Shop and met real-life gingerbread man Andrew Hunter who bakes Grasmere Gingerbread every day of the year.
She quipped: "It was a real thrill to meet a real-life gingerbread man after years of drawing them for cards and prints," said Sarah-Jane from Tyneside.
"Disappointingly, Andrew was wearing clothes that day and kept his currants well hidden!"
Which leads us to our special competition question!
How many currants have been removed by the two sunbathing gingerbread on the Sarah-Jane Szikora gift card entitled Bare Breads on the 'Buy' section of our website.
Sorry competition entries closed on 31st August 2015