The Grasmere Gingerbread Shop and Pure Lakes Skin Care collaborated to launch an exciting new range of ginger bath and body products.
"The spice's medicinal and therapeutic properties made it an ideal complementary ingredient for the new range simply entitled 'Sarah's' after Sarah Nelson who created Grasmere Gingerbread in 1854," said Joanne Hunter, a partner in The Grasmere Gingerbread Shop.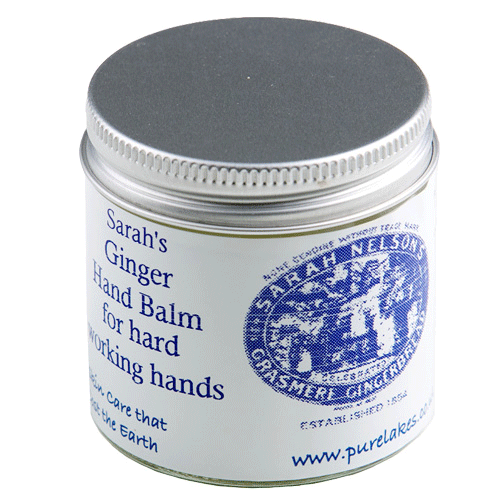 The first product – Sarah Nelson's Hand Balm for hard working hands – is made from a luxurious mix of beeswax, coconut, shea butter, ginger and orange.
The product is designed to alleviate dry and flaky skin. It comes in a 55gram glass jar with a metal screw top lid and is available from either The Grasmere Gingerbread Shop or via its online shop.

"Developing the ginger-based range was very exciting," explained Joanne, "and an experience made all the better by working with our dear friend and business neighbour Sandra Blackburn.
The owner and founder of the award-winning Pure Lakes Skin Care said naming the range after Sarah Nelson was very fitting.
"Her own life story is so uplifting and inspiring," she said. "So naming a product range after her just seems right. As a raw ingredient, ginger provides warmth and has excellent therapeutic properties that could provide some relief to those suffering from stiffness in the joints. We were thrilled to be able to work with Grasmere Gingerbread on this project."
About Pure Lakes Skin Care
In 2002 Sandra Blackburn started making natural skin care products for her own use. This 'hobby' extended to special concoctions for family and friends and eventually resulted in a wide range of eco-friendly, natural toiletries and skin care products that were hand made using sustainably sourced raw materials. These can now be purchased via their website www.purelakes.co.uk and in a growing number of shops within the Lake District.
Click here to see the full range.
Please note: Sarah's range is exclusive to Grasmere Gingerbread®.