Read all about us
GRASMERE Gingerbread is rarely out of the news. Journalists from international, national and regional TV stations, radio shows, magazines and newspapers regularly beat a path to our famous green door to shine a media spotlight on our business.
Recent TV programmes to feature The Grasmere Gingerbread Shop include impressionist Rory Bremner's Great British Views, comedian Adrian Edmondson's Ade in Britain and ITV's flagship popular daytime show This Morning. "It's always exciting working with television crews," said Joanne Hunter, a partner in the business.It's great fun for our staff and customers who get a close-up view of celebrities and how popular programmes that millions of people watch are actually made."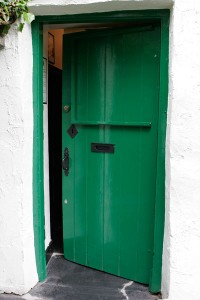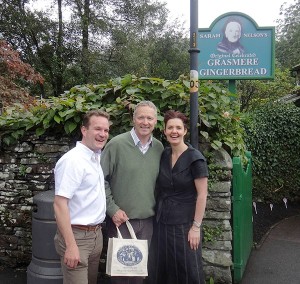 The Grasmere Gingerbread Shop also works closely with authors and reporters looking for stories about traditional businesses with an unusual story to tell. "Sarah Nelson, who of course invented Grasmere Gingerbread in 1854, is an amazing example of a pioneering businesswoman from a working-class background who succeeded against all the odds, said Joanne. "Her personal story, and struggles against huge personal loss including the deaths of her children from cholera and tuberculosis in Victorian times, still resonates today and always arouses the curiosity of writers."
The Grasmere Gingerbread Shop generates regular media releases and photo opportunities for journalists and gets involved in newsworthy fund-raising for local causes and charities such as Cumbria Wildlife Trust, Great North Air Ambulance and Nurture Lakeland.
WHAT was once fed to pigs in Grasmere village has raised a staggering £5,000 for vital conservation work in the Lake District.
Ironically, some of the proceeds raised from the sale of Grasmere Gingerbread® crumbs helped repair crumbling footpaths in the UNESCO World Heritage Site.
"We started donating £1 from every bag of crumbs sold to the charity Nurture Lakeland a few years ago," explained Joanne Hunter, co-owner of the 165-year-old business.
Read More
Grasmere Gingerbread® is in the running for the 2019 Cumbria Tourism Makers & Producers Award.
Read More
USING milk from pedigree Jersey cows that may be traced back to the original breed in 1763, Abbott Lodge near Penrith has created an exclusive ice cream for Grasmere Gingerbread®.
Sold outside The Grasmere Gingerbread Shop, the tasty treat combines the famous Abbott Lodge Just Jersey milk and pieces of Grasmere Gingerbread® and crumbs.
Read More
POET TS Eliot's masterpiece The Wasteland evokes the misery of human depression. Read More
TV'S Great British Bake Off judge Prue Leith praised Grasmere Gingerbread® after it collected a prestigious food award.
"Amazing: firm and chewy when cold, crumbly and soft when warm," she declared on a special visit to the 165-year-old business.
Read More
CRUMBS! Hundreds of new students received a spicy-sweet surprise welcome to the University of Cumbria.
A freshly baked slice of Grasmere Gingerbread® was sent to each first-year undergraduate to give them an iconic taste of the county.
"Sarah Nelson, who invented Grasmere Gingerbread® in 1854, would surely have approved as she was an early educationalist," said Joanne Hunter, co-owner of Grasmere Gingerbread®.
Read More
GRASMERE® Gingerbread has phased out 95 % of its plastic bubble wrap on mail order deliveries.
"It was a deliberate and conscious decision to bring this side of our business into line with our practice of being as environmentally responsible as we possibly can," said Joanne Hunter, co-owner.
Read More
A LETTER and telephone interview earned a teenage girl a rare work placement at the prestigious 164-year-old Grasmere Gingerbread Shop in the Lake District.
"I never usually take on students for work experience because of the restricted size of our shop and the sheer intensity of our daily work routine," explained Joanne Hunter, co-owner of the historic family business."But I said 'yes' to Amy Arey because her go-get attitude, enthusiasm and determination really impressed me."
Read More
CUMBRIA'S Grasmere Gingerbread® is celebrating its 164th birthday with a stunning national accolade
The 4th generation business was given the Special Achievement Award in Entrepreneurship at the 2018 Family Business of the Year Awards at the May Fair Hotel in London.
Read More
Gingerbread® staff hit the road on a good-natured meet-and-greet countywide tour of their suppliers.
The special minibus day trip took them hundreds of miles up mountain roads, down the M6 and across winding country lanes.
Read More
'If you build it, he will come,' from Field of Dreams is one of the most famous movie quotations of all time.
It applies equally to The Grasmere Gingerbread Shop! Read More