YOU MUST READ this important information before ordering!
Keeping Qualities!
Grasmere Gingerbread is freshly-baked every day following an old-fashioned recipe and therefore has a very limited shelf life. The quality of Grasmere Gingerbread will significantly deteriorate after ONE week.
Recent testing has shown that it keeps better in a fridge/cold environment in an airtight container BUT we still recommend consumption within a maximum of one week.
Our artisan bakery produces Grasmere Gingerbread fresh each morning for that day's dispatch and there is a limited number of parcels that can be processed.
Therefore, we highly recommend that you place your order as soon as possible when booking your Grasmere Gingerbread delivery date.
Order NOW so you will not be disappointed; we close dates of dispatch once we meet our capacity – sorry.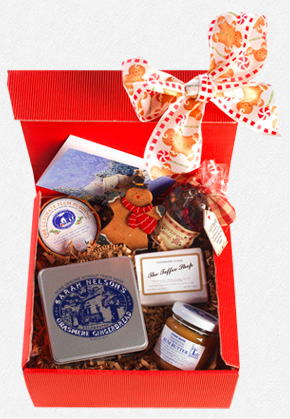 Specifying a Christmas delivery date and gift message
Ordering a delivery to your OWN home address to then give as a present on Christmas Day? If so you MUST specify a delivery date as near to Christmas as possible. If this date is full you will be offered an alternative.
Ordering a delivery to someone else's address as a gift? Similarly, you MUST specify a delivery date as near to Christmas as possible. If this date is full you will be offered an alternative.
All personal messages supplied with an order will automatically be placed on our standard gift card (unless stated otherwise, or if purchasing your own greeting card). However, if you wish for the message to be placed on our exclusive Christmas card then the cost is ONLY 50p. This is part of our Christmas service to you (normal cost of purchase is £1.50).
Delivery
All deliveries are made by our chosen international courier service – FedEx.
Deliveries are made Tuesday through to Friday from 9 am till 5.30pm. The cost of this standard delivery is £5.95 for up to 8 items in the package. All deliveries must be signed for – you can opt out of this but there is NO comeback for non-receipt of parcels.
If the recipient at the specified delivery address is out, FedEx leave a card and return the parcel to the depot. They then make two more attempts to deliver. If they are still unsuccessful they return to sender. In this instance there is no refund made by ourselves as we are charged for this return. Therefore, it is advisable to send to a manned address such as a domestic dwelling or a place of work. If the parcel is for someone else we advise you to warn the recipient that they will be receiving a parcel.
You MUST provide full post-code/zip codes and contact telephone numbers to enable FedEx to fulfil their requirements.
ADDRESSES: If sending a parcel to a recipient's place of work please ensure that you provide the FULL address details e.g. the precise department or building, especially within a hospital, educational or large industrial complexes. Our experience has shown that these parcels may take longer to arrive at their intended destination unless specific and detailed address instructions are provided. Again, please advise the recipient that they are receiving a parcel.

Saturday Delivery is available for £21.50
Monday – Friday Delivery before 9am is available for £25
Monday – Friday Delivery before 12noon is available for £15.95
Last Christmas posting date for UK is:
Thursday 22nd December £5.95 Next Day Delivery
Friday 23rd December £21.50 Saturday Delivery*
Last Christmas posting date for overseas is:
Tuesday 13th December
Customer Care – please feel free to call us with any query
We can be contacted by telephone – (00) 44 15394 35428
Monday – Saturday 9am till 5.00pm or via email
at mailorder@grasmeregingerbread.co.uk
If you have a query about a parcel then please have the name and postcode of the recipient ready at hand and order number if you have it.
*Please be aware that the Mail Order Office will be closed on Saturday 24th, Sunday 25th and Monday 26th of December
Don't forget if you want Grasmere Gingerbread for Christmas you can also visit our shop….
Shop Opening Times
Open every day – Monday – Saturday 9.15am until 5pm.  Sunday 12.30 – 5.00pm.
Final open day before Christmas Friday 23rd December.
Closed:  Christmas Eve, Christmas Day, and Boxing Day.
Open again: Tuesday 27th December.
New Year:  Open New Year's Eve (Regular Opening Hours) and New Year's Day (Sunday Hours)
Mail order dispatch will begin again on Wednesday 28th December 2016 for delivery on the 29th.
Last dispatch date before New Year
Thursday 29th December £5.95 Next Day Delivery
Friday 30th December £21.50 Saturday Delivery
In 2017 normal dispatch service will commence again on Monday 2nd January, with deliveries on Tuesday 3rd January 2016.